Welcome to Logan Farms Hamů
And a Whole Lot More!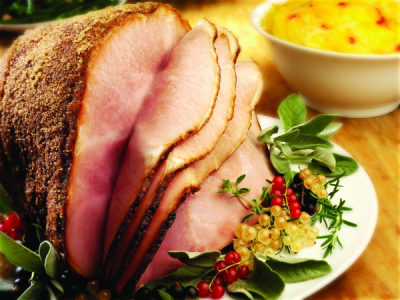 Logan Farms Shreveport is a locally owned business located at 855 Pierremont Rd., Suite 138 in Shreveport, Louisiana. We are proud to be serving Shreveport/Bossier and the surrounding area the finest gourmet meats, daily lunches, side dishes, and desserts.
Gourmet Meats
Logan Farms Honey Glazed Hams are hickory smoked, spiral sliced and honey glazed. We select only the finest hams, carefully trim and dry cure each one using a special low salt recipe, and then add a mouthwatering crunchy glaze of rich honey and savory spices. The result is a fully cooked, irresistibly delicious honey glazed ham that's 90% fat free and perfect for any occasion! In addition to our famous hams, we offer a large assortment of delectable meats and gourmet foods.
"Lunch is Served"
We feature a market café with a wide variety of New Orleans Po-Boys, House Favorite Gourmet Sandwiches, Garden Fresh Salads, Soups and Gumbo, and Fire Grilled Burgers. Every order is made from scratch with the best ingredients.
Catering
For any party, meeting or special gathering, Logan Farms has a special menu for you! We offer Catering for any size group and for any occasion - leave the worries to us and sit back and enjoy!
Gift Giving
Why not give the gift of good taste when the holidays roll around? Many of our featured gourmet meats are offered under a volume-pricing plan for orders of ten or more products. These selected meats are individually gift boxed and can also be shipped to clients, employees, friends and family across the United States. Gift Cards are also available and are redeemable at any Logan Farms store.